I'm a proud supporter of Chick-Fil-A.
I have been planning to write this post anyway, but I'm choosing to post TODAY, because this happens to be an important day for Chick-Fil-A. About two weeks ago, some friends and I decided to meet our local Chick-Fil-A. It was a busy day for us and I almost didn't go, because the get-together was sandwiched in-between doctors visits for Kindergarten shots and the last day of swimming lessons. Boy, am I glad we fit it in! We always have had excellent customer service at Chick-Fil-A, and on this specific day the workers offered us an awesome and impromptu "Backstage Tour" at the restaurant.
All the kids got a lanyard with a badge that read, "Back Stage Pass: All Access". They got their very own Chick-Fil-A hat, and put on special shoe covers. Aren't they adorable?!
The tour started in the front of the restaurant and our guide told us about the history of Chick-Fil-A. We saw pictures of the first Chick-Fil-A ever made, and we learned a little bit about the founder. One of the things I have ALWAYS appreciated about Chick-Fil-A is that they're closed on Sundays so that their employees have a day for worship and family time. It's like one last remaining shard of what the olden days used to be like, when all of the shops were closed on Sundays.
We got to see where all the food gets made and learn about how they wash their dishes and use special gloves for when they work with meat. We also learned that they use name brand products, like Heinz, and Hershey's so that their foods always taste the same at every Chick-Fil-A.
One of the best parts: THE WALK IN FREEZER! Can you believe they got to go inside?!
At the end of our tour, each member of the group got to make their very own ice cream cone behind the scenes. What an awesome way to end our day. We sure love Chick-Fil-A!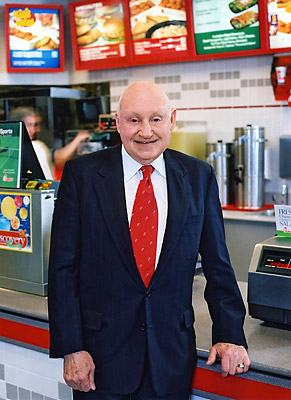 Who doesn't love Chick-Fil-A? It's popular. It's trendy. You feel healthy when you choose to eat there instead of somewhere greasy, like McDonalds. The children's play area is fun. The food is delicious. And the founder isn't afraid to stand for what he believes in (even if the world tries to tell him what he can and can't believe about marriage). The company treats their employees and customers with equal respect no matter their religion or sexual orientation. Why can't this society do the same for S. Truett Cathy, and allow him to have Christian beliefs whether or not he owns a huge business? Apparently in this society you can only have freedom of religion and a solid Christian stance on moral issues if you own a tiny business that receives NO lime-light? That's not right. I'm proud of the owner of Chick-Fil-A for staying true to his values.
Go eat there today!